This morning Dougie let me sleep in until 8:15. I am really starting to LOVE Fridays. Nik is now working a 4-day work week, so he had every Friday off. It gives us a lot of family time on the weekends! Since I went out with my mom last night (we got pedicures and we out to dinner, yum!) we didn't get to do groceries. So at about 9:30, Dougie and woke up Daddy and decided to head out to run some errands. That's when we made the decision...it was time, Dougie needed his first haircut!

After we got groceries we headed over to Hair Excitement. Dougie liked watching the "water".




Even though he kept telling us he was going to be a "big boy" and sit in the chair, when the time came, he decided he would rather not...




But Rebecca, the hair stylist, knew exactly what to do! She got a really cool animal themed apron AND a lollipop. Now, we're a GO!




With his lollipop in hand, Rebecca wet down his hair and began to cut it, she gave me his first curl that she cut and she understood that I still wanted him to look like a little boy, and NOT a little man. She told me she'd give him a trim and still leave some of his curls...Momma was happy!




Dougie was being so good, I didn't want to say anything to jinx it! He just sat there, eating his lollipop and watching her cut his hair in the mirror.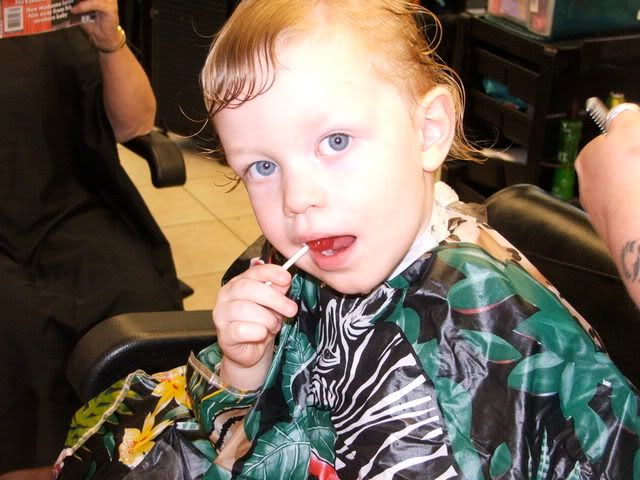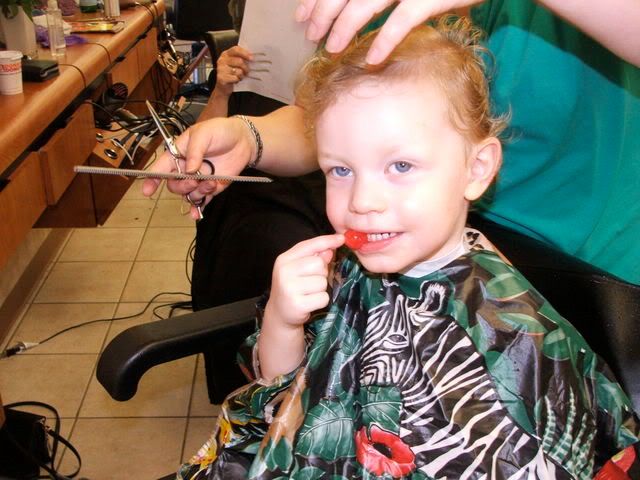 By the time we were ready to go, Dougie was a pro! He looks about a year older to me and Nik, but I think he also looks super cute! Here's the final product!